Shimoni Village
Shimoni is a sleepy port and fishing village on the mainland. This is where you'll arrive to embark and join us on Wasini Island. It has recently been gazetted as a conservation area/national monument. ​
​Did you know that Shimoni boasts the ruins of the first ever prison in East Africa? It's also home to a number of old buildings that were erected by the Imperial British East Africa Company. It was an important port at the height of the slave trading era in Zanzibar. But now, it's a thriving traditional port for the trading dhows that still ply their wares between Kenya, mainland Tanzania, and the islands of Pemba and Zanzibar.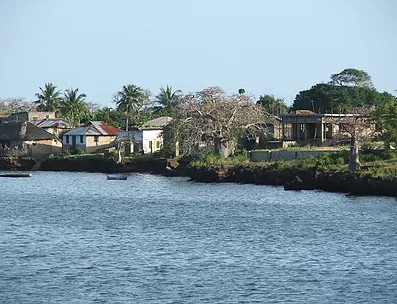 Wasini Island & Village
The first thing you'll notice about Wasini Island is that it's an island with no cars. In this tranquil setting, you'll find interesting villages, ancient mosques, tombs, amazing coral formations, mangroves and happy inhabitants. Furthermore, the island that's steeped in history has a serene skyline which consists of ancient baobabs. If you're an enthusiast for feathered creatures, then you'll find a bird life that's stimulating and unmatched in this area.
​In a beautiful, tranquil setting the restaurant and gardens of Charlie Claw's takes up prime position at Muhndini — a promontory overlooking the shimmering mountains of Tanzania. Surrounded by small bays and sandy beaches, artisans can still be found repairing the remaining wooden craft using traditional tools.
Kisite – Mpunguti Marine Park
Kisite Mpunguti Marine Park is located on the south coast off Shimoni and south of Wasini Island in Kwale District on the south Kenyan coast near the Tanzanian border. The complex covers a marine area with four small islands surrounded by coral reef. Kisite island is a small waterless coral island, 8 km offshore in the Marine Park.
Coral platforms around the raised central portion are exposed at low tide. The three other coral islets in the park (Mpunguti ya Juu, Mpunguti ya Chini and Liwe la Jahazi) lie closer to the larger Wasini Island, are scrub covered and support no significant wildlife or birds. The surrounding waters have well developed coral gardens and a large variety of fish.