Swahili Cuisine at Charlie Claws Restaurant
Charlie Claw's is the original Wasini Island restaurant. The main restaurant is open plan under a cool coconut palm roof overlooking the Indian Ocean and Wasini Channel
For romantics & small groups there is the Headland Hideaway – perched on the very end of Wasini Island – look out over the uninterrupted views to the shimmering mountains of Tanzania.
The dive-base verandah is another choice you have – upstairs & downstairs with a small family & friends group or the 2 of you alone & together.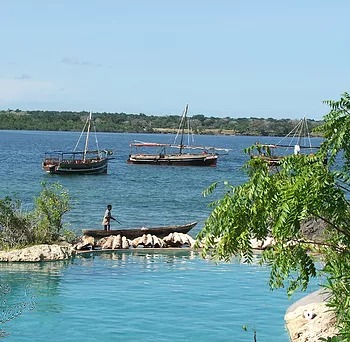 Fresh Seafood Everywhere!
Lunch at the restaurant is always served using the freshest seafood – fish and crab, our specialty, and is brought daily to the beach by the fisherman who can be seen waving cheerily from their dugout canoes. The trading dhows from the East have for centuries influenced Swahili Coastal culture and the many cargos of spices have created interesting, mouthwatering dishes.
Specializing in Swahili cuisine and all dishes — whether vegetarian, from the sea or from the land — have a hint or more of exotic spice. Don't forget to take a look at our well-received Swahili Blue menu if you have a craving for Swahili-style cuisine.
The many orchards and shambas (farms) of the coast also provide us with juicy exotic fruits. Our policy is to buy fresh and from the local farmer and fisherman. This way, you help us to provide an income to the local community.
Somewhat naughtily — but careful not to influence the younger island generation on a predominately Muslim island of gentle folk — we are the only licensed restaurant on the island and we specialize in making long, thirst-quenching boozy & non alcoholic cocktails for our guests, not to forget Arabic coffee & Swahili tea.
Lazy Lagoon Pool and Exotic Gardens
In the gardens, ending in small sandy bays are shaded by old indigenous trees where you can find your own space to relax and unwind in privacy and comfort.
The lazy lagoon pool is the only pool on the island. Here, you can wallow and cool off after a sumptuous lunch. You can also swim in the deep water or sit immersed in one of the many nooks and crannies.
If you're not so active but fancy a relaxing day, then join us for lunch on the Island & not as part of a full day tour. Let us collect you & then pamper you.